Good afternoon dear friends, how are you this hot summer day? Boiled eggs are the usual food we add on our tabletop and this is why we should learn some boiled eggs catering ideas. Stay with us in this post to see some new ideas and use the same ideas in your own kitchen and impress your guests. You will see different combinations and ideas for your plate and you will need just few minutes to check it!
CHECK OUR LAST POST: https://tastyfoodideas.com/amazing-salad-catering-ideas-for-you/
Boiled eggs catering idea – eggs and tuna
The first idea is about how to decorate the eggs and combine them with fish – tuna. You can decorate with parsley, please see the photo and find motivation for your cuisine.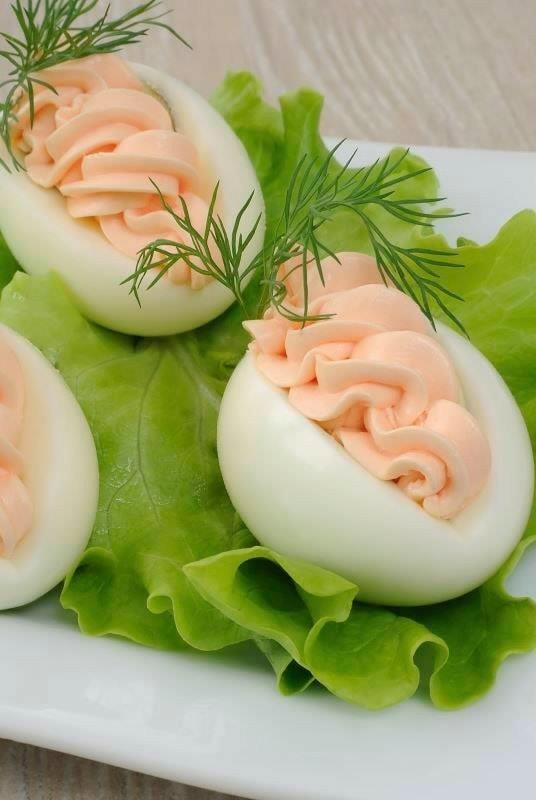 Make basket from eggs
From boiled eggs yo can make baskets and fill it with veggies and mayonnaise. Take a look in the second photo from the post and find some ideas in it.
Boiled eggs and tuna
It's again egg and fish and I hope you will like this idea, come on take a look in this garnishing.
Creative mushrooms made of boiled eggs
And the next idea is about how to transform the boiled eggs into mushrooms. Take a look at the next photo and find motivation in it.
Spanish scotch eggs
We will end up this post with our Spanish scotch egg art. Make the art on your own plate and eat it for breakfast, lunch, or dinner. Spend few minutes to check this catering idea and make it in your own kitchen place for your family.
This is the end of the post dear friends. Thanks for your time and keep following our page in the future for more ideas like this!