Hey, there dear friends. Welcome to our amazing page www.tastyfood.ideas and to our impressive post. The post is about cute food art, how to make animal shapes by using fruits and veggies and do this with love, effort, and patience. You will see how to make a bird-shaped salad, small elephant, flowers, penguins and all this by using fruits and veggies. Stay with us and see amazing ideas!
Also, R E A D the last post shared on our page and was about amazing dish plate storage organizer which we will need it in the kitchen place. But first, check this food idea and learn how to play with the food that will help you to make something for your kids to force them to eat healthy food.
Food carving – making fish by using carrots and watermelon
In the first photo, we can see how one artist creates fishes by using carrots, watermelon, and the result is great. You will have the chance to see this idea in the photo now and find some idea for your own kitchen. Check the other ideas too.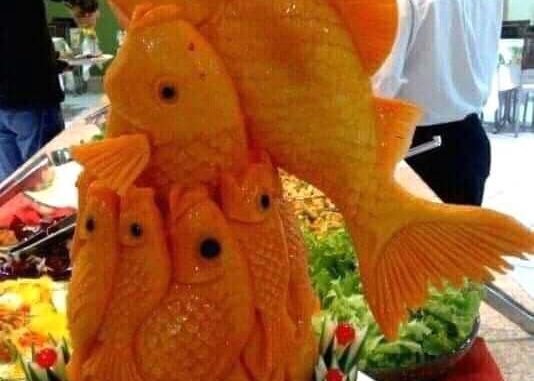 Making cute penguins by using aubergine and carrots
The second idea is about how to make veggie penguins by using carrots and aubergine and the idea is so great. I invite you to to check the photo carefully and to try to find some idea for your house place too. Make this with love for your loved person!
Making birds and flowers shaped by using watermelon
In the third idea, we can see how people are making bird-shaped from watermelon and they are also making flower shapes. Take a look in the photo now and impress yourself but I don't think that we can all do this, except if we don't have some talent to make it.
Making a small elephant from fruits
In the next photo we can see how to use fruits like citron, melon and making cute and small elephant for our little kids. I'm sure that they will all love this and we as a parents should try to make it. Take a look in the photo now and learn how to make and for more ideas follow the link below the photo now.
At the end of the post, thanks for the time that you spent with us and our page. We hope that you are already in your kitchen and trying to make something from this! Bye!