Hello tasty food lovers, how are you today?? We are fine, always fine in search for new recipes, catering, healthy food ideas, and preparation. Today we will keep on different ways to prepare green beans at home and hope you will be our follower to the end of the post!!!
Sometimes our children don't want to eat green beans at home and this is why we should be creative and force them to eat by using our creativity in meals. We can use the following two recipes, to make nice food art on the plate and tell our children that he/she must eat this type of food to be healthy during all life!!! If you are interested in our recipes, be with us to the end and see what I'm talking about, be cooker and learn how to cook well for the whole family!!!
Recipe number one 1: Buttery Garlic Green Beans
Place green beans into a large skillet and cover with water; bring to a boil. Reduce heat to medium-low and simmer until beans start to soften about 5 minutes. Drain water. Add butter to green beans; cook and stir until butter is melted 2 to 3 minutes.

Cook and stir garlic with green beans until garlic is tender and fragrant 3 to 4 minutes. Season with lemon pepper and salt.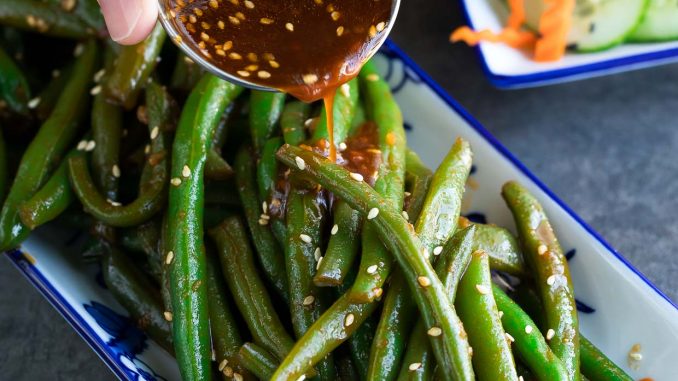 Recipe number two 2: Bacon green bean bundles
We are to the second recipe from this post about eating healthy food and preparing green beans at home. We have two key tips for making sure your green bean bundles come out perfect every time. The first tip is to blanch the green beans, then submerge them in ice water to set their color. This will help prevent them from losing their bright green color in the oven. The next tip is to par-cook your bacon. You want the bacon to still be soft and pliable, so don't overdo it here or it won't wrap easily around the beans. You'll want to secure the bacon around the green beans with a toothpick. You can remove the toothpick prior to serving, but just be aware that these green bean bundles tend to be on the more fragile side, simply because you've got a small strip of meat holding 8-10 green beans in place. So handle the final product with care!
Also follow this link if you are interested in fresh salad decoration and catering for any kind of celebration at home, in the yard or garden. Please follow us in the future to see more ideas and tell your friends to be out follower too. For all this, we will be so thankful to you and we will give you the best posts, I PROMISE YOU!!!