Hey friends. If you are in dilemma what type of cake to prepare today stay with us and see the full recipe for delicious biscuit and apple cake and try to make it at home!
Weekend time is a period when we prepare different meals and cakes for us, our kids and our nephews. This is why we need a lot of recipes that will help us to prepare delicious food. Today the recipe will be, as I mentioned in the introduction, mix of apple and biscuits and you can prepare in an easy way. What I love the most with these cakes is that you don't have to bake it and the ingredients we all have it at home so we don't need to go in the store to buy it.
The needed ingredients for preparing this biscuit and apple cake are: 
400 g. Biscuits
1 vanilla
apples or bananas
100 ml Water
pudding
250 g. sugar
The recipe is so easy and to be honest I tried at my home and after that decided to share with you. You can refresh yourself in an easy way and the only thing you have to do is the following. First of all, you will decide on the shape of the cake, if you wish to be square, triangle or however, you will arrange the biscuits in that shape. In the pan, you will first add paper, on the first lay arrange the biscuits, on the second lay arrange the fill made from apple and sugar. Repeat this process unless you fill the pan. For the top, you can add biscuits and finish the recipe.
Photo via www.whereismyspoon.co
After the recipe is finished, put the tart in the fridge and wait 1 hour and even more. The cake prepared like this you can eat two and even more days, you will make refreshment to the whole family! For more information check the following photo and find our how should look the final result of the tart. Mmm, if you prepared in your home, please share with us in a comment and send some photo to see how good cooker you are! Bon appetite and I recommend you to drink a glass of white wine with this tart and to feel the moment!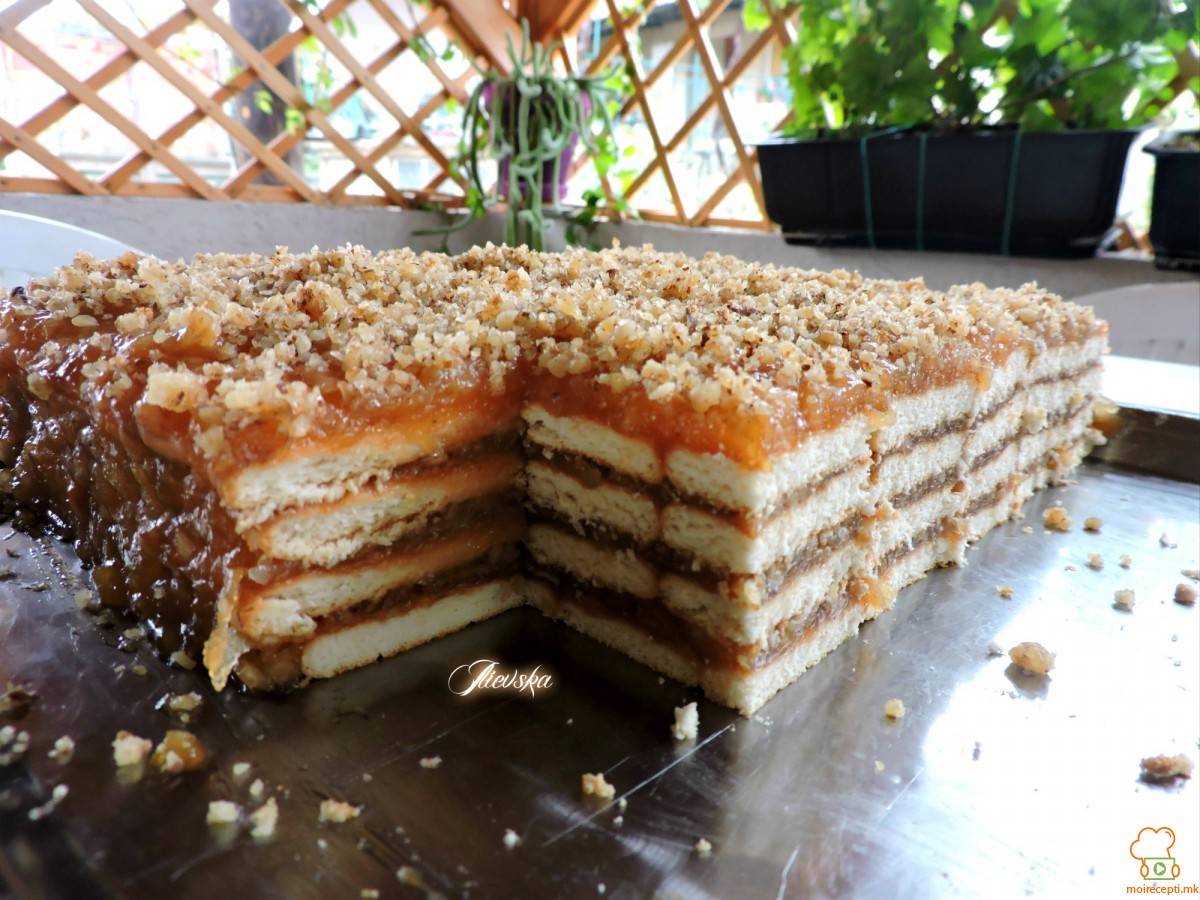 Hipe you are already ending with cake and you have still free time to scroll down on our website and also read the last post. The last recipe was about how to prepare cheesy baked macaroni recipe and I sincerely hope you will make it tomorrow because we all love macaroni to eat!