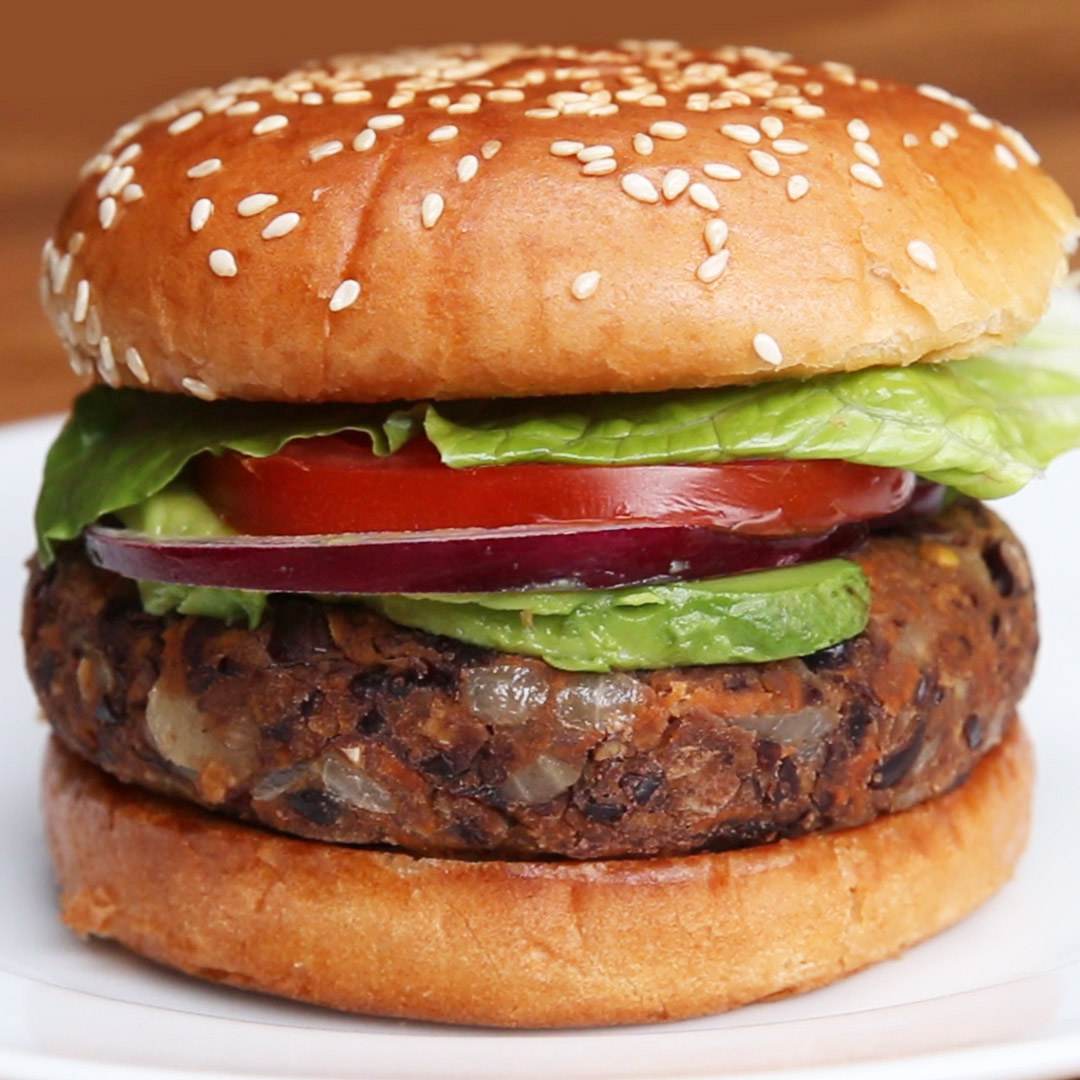 If you thought that being a vegetarian is hard, you haven't heard about these simple vegetarian recipes. Black bean burger (vegetarian burger), gazpacho ( tomato soup), and homemade veggie chorizo are recipes that will make you forget about meat. Read these simple vegetarian recipes that we just love.
Homemade Veggie Chorizo
Veggie chorizo is a cheap, easy recipe. Chorizo made of sweet potato, an egg, olive oil and a slew of spices that we just love it. If you can't imagine your day without chorizo, make a healthy veggie chorizo in an easy and quick way.
Full recipe: Poke a few holes in a sweet potato, using a fork. Peel of the skin, next, flip the half potato over. Mash the cooked potato in a large bowl. In the same bowl add egg, garlic, and all spices. Mix these ingredients together until well-combined. Heat oil in medium skillet. When the oil is hot, place links in the skillet. Cook over medium-high heat until is softened. Season with oregano, decor with green pepper, onion, and parsley. Serve it on tortillas. Bon appetite!
Black Bean Burger
Black bean burger is a vegetarian burger made with fresh ingredients.
Full recipe: You will need 20 minutes to prepare this delicious burger. So, here is the full recipe: Add onions, garlic, salt, and pepper and cook until onions are translucent in a pan. Add carrots, cumin, coriander, chili powder, and cayenne pepper. Cook until carrots are softened. When all boiled together,  In a bowl, mash the beans with a fork. Next step, add the contents of the pan along with the soy sauce and quick oats. Mix these ingredients to form 4 small croquettes. Cook the croquettes on a pan, until browned. Season with the red pepper, add onion, tomato and green salad. Close the burgers, place in the freezer overnight and serve it cold.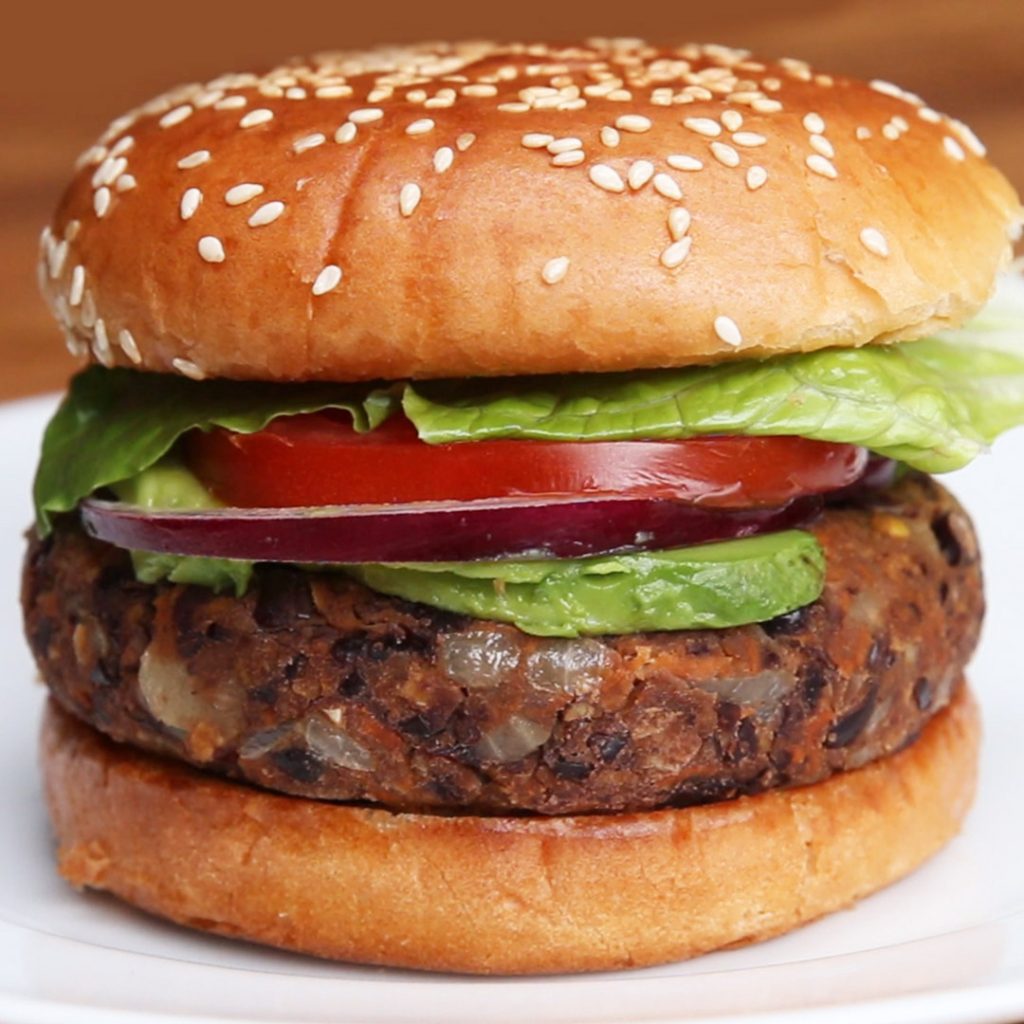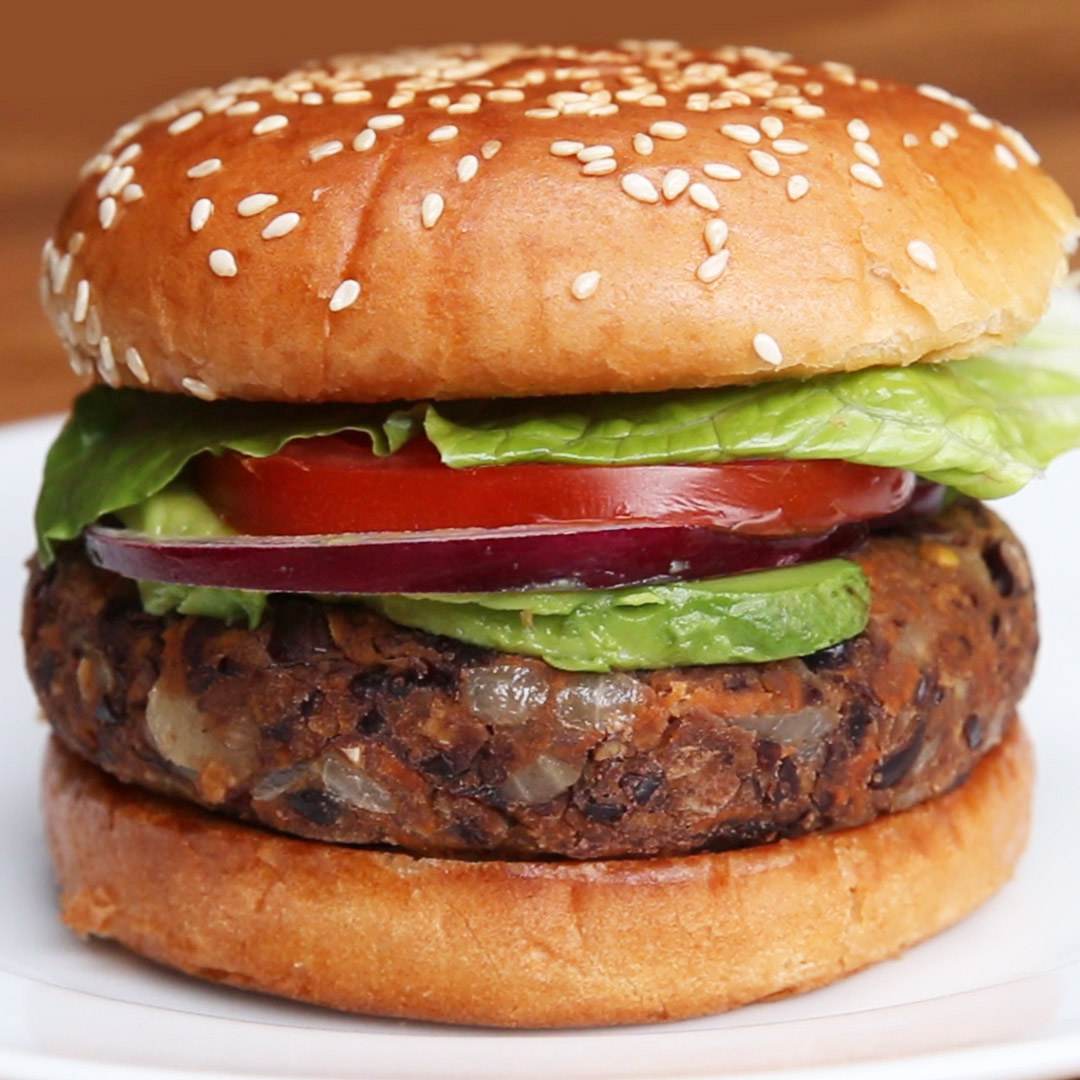 Photo via www.tasty.co
Gazpacho
Have you ever tried Gazpacho? Gazpacho is a tomato soup, an ideal meal for this period of the year. The recipe comes from Andalusia, Spain.
Full recipe: Drop 4 large or 9 small fresh tomatoes into the boiling water for 15 seconds, remove and transfer to an ice bath and allow to cool until able to handle. Press as much of the juice through as possible and then add enough bottled tomato juice. Now, mix the tomatoes and juice into a large bowl. Add one small and fresh cucumber, add celery, bell pepper, onions, jalapeno, garlic clove, 1 cup extra-virgin olive oil, lime juice, balsamic vinegar, cumin, salt, and red pepper. Stir all this to combine. This is a gazpacho that dreams are made of. It looks more like a drink than a soup, but however, it tastes delicious!
This is the last idea of this article named simple vegetarian recipes that we just love. After reading these simple vegetarian recipes, are you already thinking of becoming a Vegetarian? Tell us in a comment on this article and share your personal opinion with us.