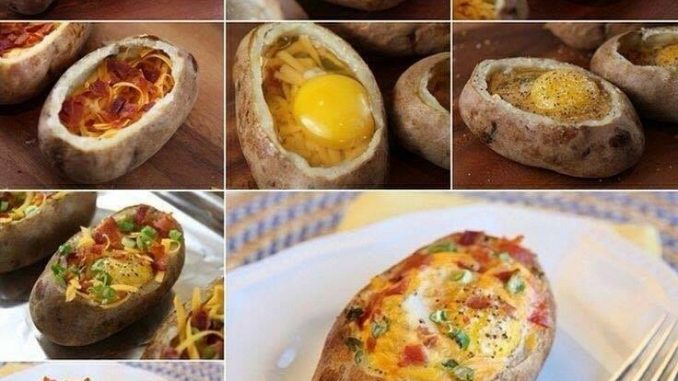 Good evening dear friends. Many times we are wondering what to prepare as a lunch or as a dinner. Our page offers many recipes that maybe will help you in your cuisine. This evening, we RECCOMEND you to try a stuffed baked potato with egg. The recipe is so delicious that after preparing it once you will wish to prepare it once and once again.
Check this water lemon drink you can drink and have many health benefits.
Here is the recipe to try, but first check the ingredients you will need:
4  potatoes
1 onion, diced
2 garlic cloves, minced
1 red pepper, chopped
1/2 chicken breast, (200g) cut in small pieces
1 spoon (14g) olive oil
1/2 spoon (1g) nutmeg, optional
1 cup (100g) grated Cheddar cheese
Fresh parsley
Salt and freshly ground black pepper for seasoning
These ingredients are needed for 8 people, if you want just for 4 people, take half of the ingredients. Read the recipe after the photo now and learn how to make it.
The recipe is this in the following: 
Scrab the potatoes with a spoon, fill it with eggs, carrots and cheese and next preheat the oven. Bake the potatoes in the oven for about 40 minutes. Add black pepper and seasoning and serve the stuffed baked potato on a plate. Look how to make the full recipe in the next photo collage.
I hope that this recipe is delicious for you and you will try to make this in your own cuisine. Thanks and prepare this recipe as lunch or dinner for your loved person.