Hey, there dear friend. For holidays we eat a lot of salads that go great with alcohol. Of course, we can drink but never to exaggerate with alcohol. Today we will show you how to prepare 4 cold salads that you will be making even 4 Sundays starting from today!!!
Also, read about our homemade apple lollipops, something that is healthy and every child wishes to eat it. Click on the link and read the recipe with instructions.
1. Fresh cabbage salad – cold salads
Here are the ingredients you will need to prepare this salad in no time:
1 small cabbage head (approximately 1 lb.)
4 pickled cucumbers
1 can (14 oz.) Sweet corn (discarded liquid)
8 oz. Ham
1/3 cup chopped chives
3/4 cup mayonnaise
1 tablespoon. lemon juice
1/2 teaspoon salt
1/4 teaspoon pepper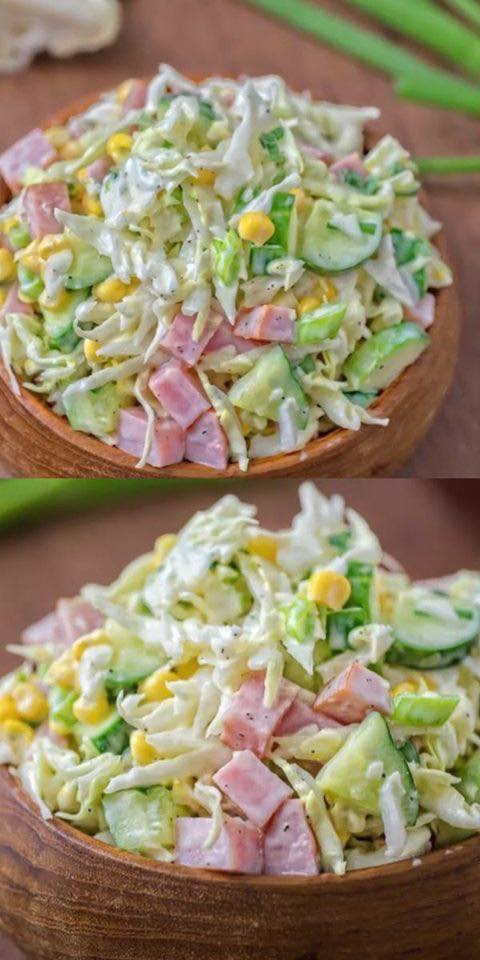 2. Creamy Salmon Pasta
The ingredients for the second of our cold salads:
1 pound salmon
8 ounces raw penne pasta
3 tablespoons butter
1 medium onion (chopped)
8 ounces thick cream
3/4 cup grated Parmesan Reggiano
1/4 cup chopped parsley
salt and pepper ( as you wish)
3. Oliver salad
To make the Oliver salad you will need these ingredients:
3 pounds of russet potatoes, peeled, rinsed and cut into 1-inch cubes
1 tablespoon of salt, or to taste
4 hard-boiled eggs, peeled and diced
3/4 cup finely chopped red onion, rinsed with cold water and drained
1 cup chopped celery
2/3 cup chopped pickles
1 tablespoon chopped fresh parsley (optional)
2/3 cup light mayonnaise
2/3 cup sour cream
1 1/2 tablespoons apple cider vinegar
1 tablespoon prepared yellow mustard
1/2 teaspoon freshly ground black pepper or more to taste
1/2 teaspoon celery seeds
1/4 cup milk, then more as needed
4. CODIT SALAD – cold salads
Here are the ingredients for the last salad of our today's recipes about cold salads:
1 bag of conditions (200 gr or 1 ½ cups dry condition)
1 carrot, grated
1 bell pepper, diced
½ cup celery, chopped
2 tablespoons purple onion, finely chopped
¾ cup sour cream or plain yogurt without sugar (1 bottle of 200 ml)
¼ cup mayonnaise
1 teaspoon mustard
1 tablespoon pickled chili vinegar
Salt and black pepper.
Thank you so much for the time you spent with us dear cookers and I invite you to be our follower in the future for other recipes similar to this and perfect for the New Year and holidays!