Drinking coffee is one of the favourite things we do in one long day. Is important to have a good friend to drink coffee with him but is also important to find some nice place. Sometimes, even we don't need a friend just a good coffee shop and of course a good coffee. I invite you to explore one Cafe named Yeonnam-dong and located in South Korea, you surely can't trust your eyes but is real is not a drawing!
Let's get started to explore the most visited cafeteria around the world! After seeing the images feel free to share it with friends and to tell them where to drink the best coffee. Also, spend the time to find out why drinking coffee every day is good for you, thanks!
This is the best coffee shop to drink your favourite coffee
The coffee shop with black and white hand-painted walls, chairs, tables and floor, is located in South Korea. On the first side, you might think that this is not real but actually it is, is the masterpiece of art! Come here with people you love and drink the best coffee in life while you are enjoying in the atmosphere. I don't believe there is anywhere a coffee shop like this one!
Entering this coffee shop will make you feel like you are in another world.
Location
The location is 10 mins away walking from Hongdae station exit 3, and the address of this coffee shop is Cafe Yeonnamdong 239-20. The interior design is black and white all hand painted.
Best coffee + Biscuit = Relaxing
Come here and drink your favourite coffee while you are staring at the art on the wall! In this place, one coffee cup with a biscuit can make feel the happiest person in the world. For a moment, you may think that you have entered into some cartoon and you have no worries in life!
Isn't a drawing is a real cafe bar
Is hard to beleive that this is not a cartoon for little children but a nice place for drinking coffee. As we can see, the walls are drawing art, the gallery on the wall, the curtains all of this makes you hard to beleive in reality. Isn't this a dream where no one wants to wake up?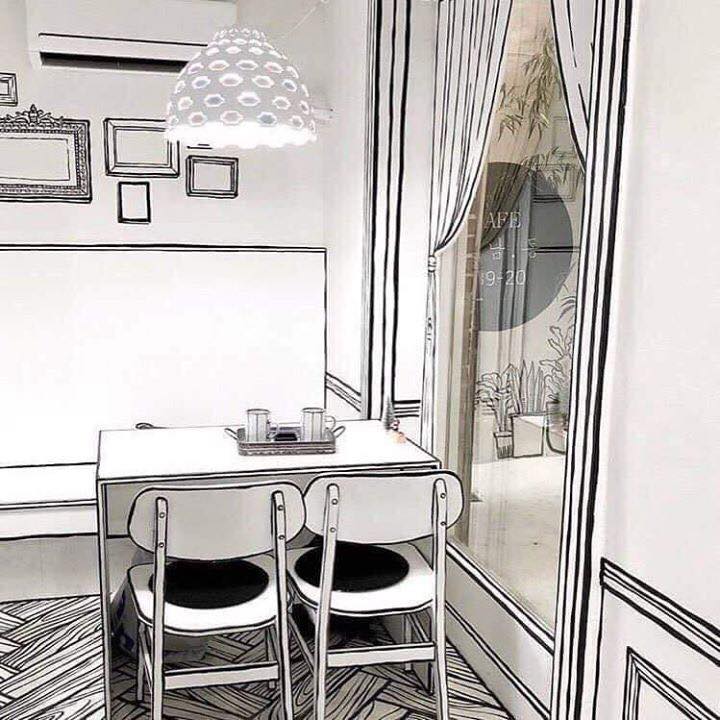 Breakfast in the best coffee shop in South Korea
Here, not just the coffee is great but also you have breakfast to order. It means another reason for happiness because this creative food catering will amaze you and you will want more and more. Oh, my dear friends, I really wish to come to this place and to take a lot of photo shoots together with my friends, what about you?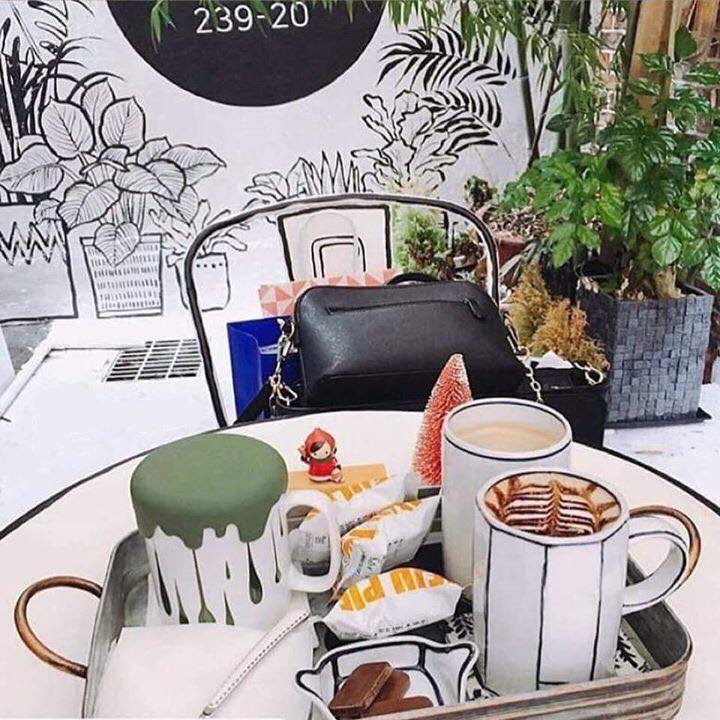 Share this post on social media to inspire your friends and come here to see with own eyes that this is real ART!